History of Cabrera Lawn Bowls Club
Our Sponsors
The Journey From a Dream to Reality
However did a bowling green complex come to be constructed part way up the mountainside of the Sierra Cabrera?
It all started in 1982 when an architect/designer, Peter Grosscurth, was admiring the Sierra Cabrera mountain range in full view of his own property in nearby Cortijo Grande. His daughter Pia had noticed that, on this particular day, Peter was focusing his attention on the mountainside with the aid of binoculars. Pia asked him what he was thinking as she was sure he had a vision of something special. The reply to her question was simply: - "I can see a castle up there". Pia said she could not see anything like a castle but she soon found out that he meant he had a vision of a village in the mountains which would have a distinctly Moorish influence. (The Moors had occupied much of Spain for a period of 500 – 700 years and had an occupied settlement in Cabrera during that period).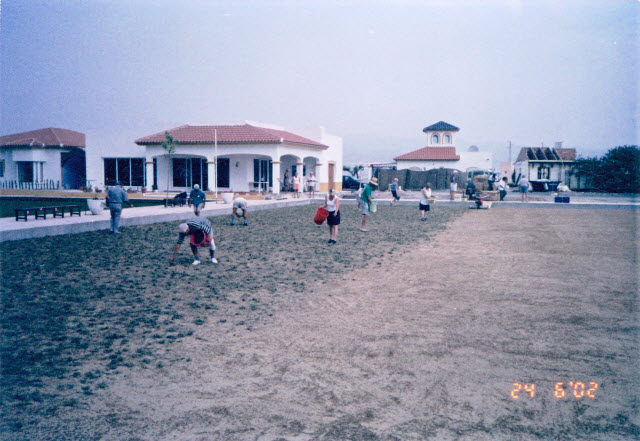 He had experience of designing property in Cortijo Grande in what we call "the valley". He joined forces at some stage with a talented architect – Lucas c.c Mazquene - who shared Peter's enthusiasm for all Moorish designs.
The next step, Pia told me, was to see the local Mayor and to find out what co-operation he might receive. First signs were encouraging. In the absence of any road surface the two of them trailed up the hills on donkeys. The Mayor then said that his local authority would be interested, provided that an ample supply of water for the needs of this planned development was found – and it was – and that a road up the mountainside be constructed by Peter's team – and it was!
It is doubtful that he had lawn bowls in mind at that time but as it turned out he was introduced to a bowler who, in turn, was interested in living in this new village to be called Cortijo Cabrera. He just happened to know one of our best known and successful bowlers namely, David Bryant.
With the advice Peter received he was able to set his workers on to building not one but three grass bowling greens, together with store rooms, a restaurant and a swimming pool – not forgetting the wonderful views.
The first foundations were in place 1982-3 and the bowls greens were ready in 1984. In 1986, a Committee formally registered the club and subsequently it became affiliated to the Spanish National Federation of Bowls.
Some of the best memories during this time were in 1993 and 1994 when Cabrera Lawn Bowls Club co-hosted the Spanish National Championships with the then, La Mata Lawn Bowls Club. Bowlers came to this South Eastern corner of Andalucía from the Costa Blanca and the Costa del Sol plus some from the Spanish Islands.
Club days, leagues and competitions kept the club a popular one to belong to. The developers maintained the greens up to 1991 when the club took over the maintenance as part of a new agreement.
Then it was time for change.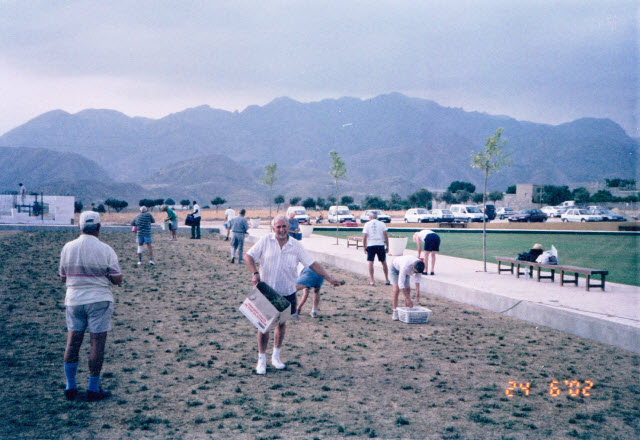 In 1999-2000 many discussions took place with a view to securing the long term future of the Club. AGM and EGMs followed and there was much debate and much variance in opinions on the way forward.
The decision was finally taken that, as we could not reach an agreement to purchase the original site, and carry on only on a rental basis, we looked at some 11 possible sites to move to and finally a site in Turre situated at the foothills of the Sierra Cabrera was most suited. The developers at Al Andalus Gardens had plans for a retirement village there and our proposal to site our bowling green was warmly received.
There had been marked differences in opinion at the time, as to whether or not we should continue on grass or change to an artificial surface. Clearly there were strongly held views for either of the options. Briefly, the outcome was that a good many left Cabrera and, with others formed a new local club with an artificial surface whilst the grass devotees pursued their goal. The first green was constructed in 2001 together with a clubhouse followed on by a second green in 2002.
An Open Invitation Competition brought members of many clubs in Spain together to share the enjoyment of this new venture. The first games were played on Green 1 in November 2001. Cabrera went on to host the National side from Portugal and later from Wales. Many days were taken up with practice and selection procedures for the Spanish National Team. Events, such as the Andalucian Championships have been held at Cabrera.
Another side of the club's activities is hosting other clubs within Spain and also visiting/touring teams from France and various parts of the UK. All are made very welcome. Our UK visitors enjoy having the opportunity of playing outdoors during the winter season with the challenge of grass, whilst others would always choose grass to play on, so there is a market and Cabrera Lawn Bowls Club is able to provide for that market.